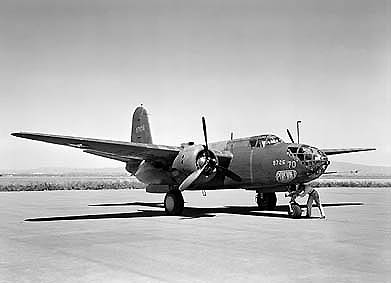 Blythe Army Air Base was first used in May, 1942 when it was transferred to the 4th Air Force as part of the Desert Training Center. For the next six months, Blythe AAB was the only Army airfield that gave air support to infantry and armored troops in training maneuvers. During this time, the 46th and 85th Bombardment Groups occupied the airfield and flew the Douglas A-20 Havoc, Vultee A-31 Vengeance and North American A-36 Apache aircraft to support DTC divisions. By the end of 1942, three new airfields (Thermal, Rice and Desert Center Army Airfields) were built to support the Desert Training Center desert maneuvers, and Blythe AAB wasn't needed for the Army's desert exercises. Blythe's new role was changed to the training of heavy bombardment combat crews before they were deployed overseas.
In 1943, the base had over 7,500 personnel, 75 heavy bombers and 650 buildings. The 34th and 398 Heavy Bomb Groups flew the B-17 Flying Fortress and B-24 Liberator while training at Blythe AAB. Both Bomb Groups were the last to occupy Blythe AAB before being deployed overseas, and the base was declared surplus in July, 1944.
After the war, the airbase was made into a civilian airport, which is still in use today. All of the buildings, except for the main hangar, were dismantled or torn down. Very few building foundations and traces of the WWII airbase exist due to extensive farming done after the war.
Air Groups assigned to Blythe Army Airfield were:

-46th Bombardment Group (Light) May 1942-November 1942- A-20 Havoc
-85th Bombardment Group (Light) May 1942-November 1942- A-20 Havoc
-85th Bombardment Group (Dive) November-11 December 1942- A-24 Dauntlesses
-34th Bombardment Group (Heavy) December 1942-April 1944- B-17 Flying Fortresses and B-24 Liberators
-398th Bombardment Group (Heavy) April 1943 B-17 Flying Fortresses